25 October 2022
Czech EU Presidency | COMECE and CEC meet with Ambassador Edita Hrdá
An ecumenical delegation of the Commission of the Bishops' Conferences of the European Union (COMECE) and of the Conference of European Churches (CEC) met with ambassador Edita

Hrdá

, Permanent Representative of the Czech Republic to the EU, on Monday 24 October 2022, to exchange on the implementation of the Czech EU Presidency's priorities.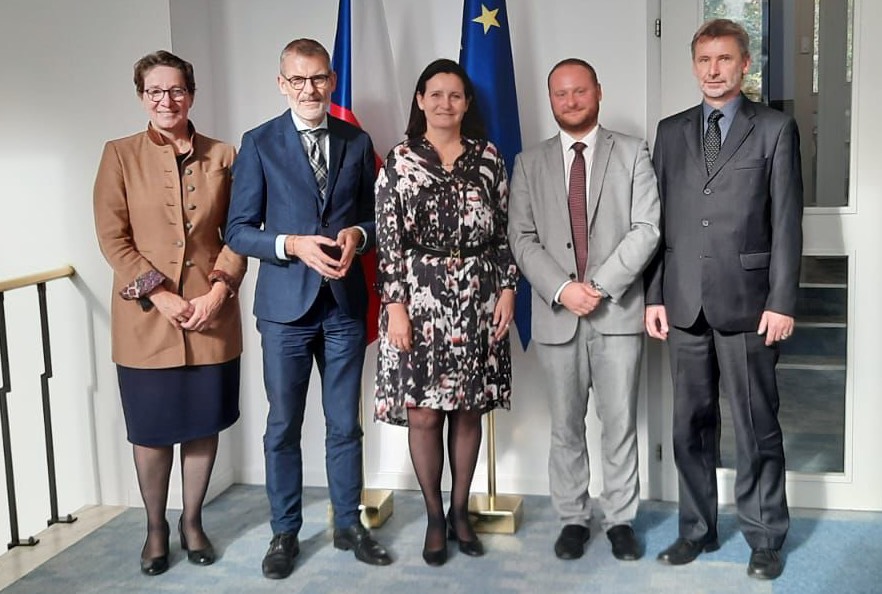 During the meeting with the Czech ambassador, the COMECE-CEC delegation put a special emphasis on the humanitarian, geopolitical and socio-economic implications of the ongoing war in Ukraine, sharing concerns and perspectives for stability, prosperity and peace on the European continent.
The ecumenical delegation expressed its appreciation for European leaders' efforts in promoting cohesion in the current difficult moment and encouraged the EU Czech Presidency to continue working towards maintaining political and societal unity across Europe in solidarity with all who are suffering from the war in Ukraine and its wide-ranging consequences.
While nurturing a close dialogue with local Church communities who are at the frontline of humanitarian efforts, COMECE and CEC reiterated their call "for a dialogue-based sustainable solution to the conflict in full respect of international law and the territorial integrity of Ukraine".
Both parties in dialogue highlighted the valuable role that Churches can play in tackling the
misuse
of religion and the spread of disinformation, two phenomena that are fuelling polarisation across European societies, as well as posing a grave challenge to EU founding values.
An important shared concern is the humanitarian dimension of the war in Ukraine, especially the assistance to refugees fleeing from Ukraine and other world regions hit by serious crises. COMECE and CEC emphasised the need for "an effective solidarity rooted in a truly common European approach fully respecting the dignity of every human person".
The exchange with Ambassador Edita
Hrdá
also focused on the socio-economic hardship faced by many EU citizens due to the soaring energy prices and the overall increased cost of living. "The solution to the problem - the ecumenical delegation stated – should be crafted at the European level, with a strong sense for unity and determination supporting the most vulnerable in the social and economic fabric."
The meeting also addressed the question on how to foster the rule of law in the European Union, taking into account the different historical experiences and sensitivities of each EU Member State. COMECE and CEC offered their openness to engage in this process with the current Czech and upcoming EU Council Presidencies.
The COMECE-CEC delegation was composed of:
Dr Jørgen Skov Sørensen, General Secretary of CEC

;

Rev Dr Peter Pavlovič

, CEC Study Secretary, EU Integration and Sustainable Development;

Marek

Mišák

, COMECE Adviser on EU External Affairs

;

Friederike Ladenburger, COMECE Adviser on Ethics, Research and Health.
PRESS OFFICE



alessandro.dimaio@comece.eu
The Catholic Church in the European Union
Commission of the Bishops' Conferences
of the European Union