NEWS

| COMECE welcomes launch of EU accession talks with Albania and North Macedonia
20/07 - The Bishops of the European Union congratulate Albania and North Macedonia on the opening of EU accession negotiations. COMECE General Secretary Fr. Barrios Prieto: "a credible EU enlargement process is of strategic importance for stability, prosperity and peace on the European continent. We warmly congratulate Albania and North Macedonia and their people, who have long awaited this moment with hope and faith". Read the News

DOCUMENT

| COMECE 2021 Annual Report Now Online
19/07 - The report includes a special feature on the Conference on the Future of Europe, highlighting the contribution of COMECE to this EU initiative. In the foreword article opening the publication, H.Em. Cardinal Jean-Claude Hollerich SJ, President of COMECE, calls on all of us to keep cultivating hope because "it is the most divine thing that can exist in the heart of mankind". Read the 2021 Annual Report | Read previous Annual Reports
VIDEO

| Video recordings of the 5th European Laudato Si' Reflection Day now available!
20/07 - The video recordings of the 5th Laudato Si' Reflection Day are now available! The event was held on 17 May 2022 by the European Laudato Si' Alliance (ELSiA) to reflect on environmental activism in Europe. Read the webnews


List of the video recordings available:

OPPORTUNITY

| COMECE is looking for an intern!
14/07 - We are currently in search of a young intern who will work in Brussels for the duration of 5 to 8 months alongside COMECE 's pool of legal and policy advisors.
INTERNET | COMECE new website competing for the 2022 Eurid award. Vote for us!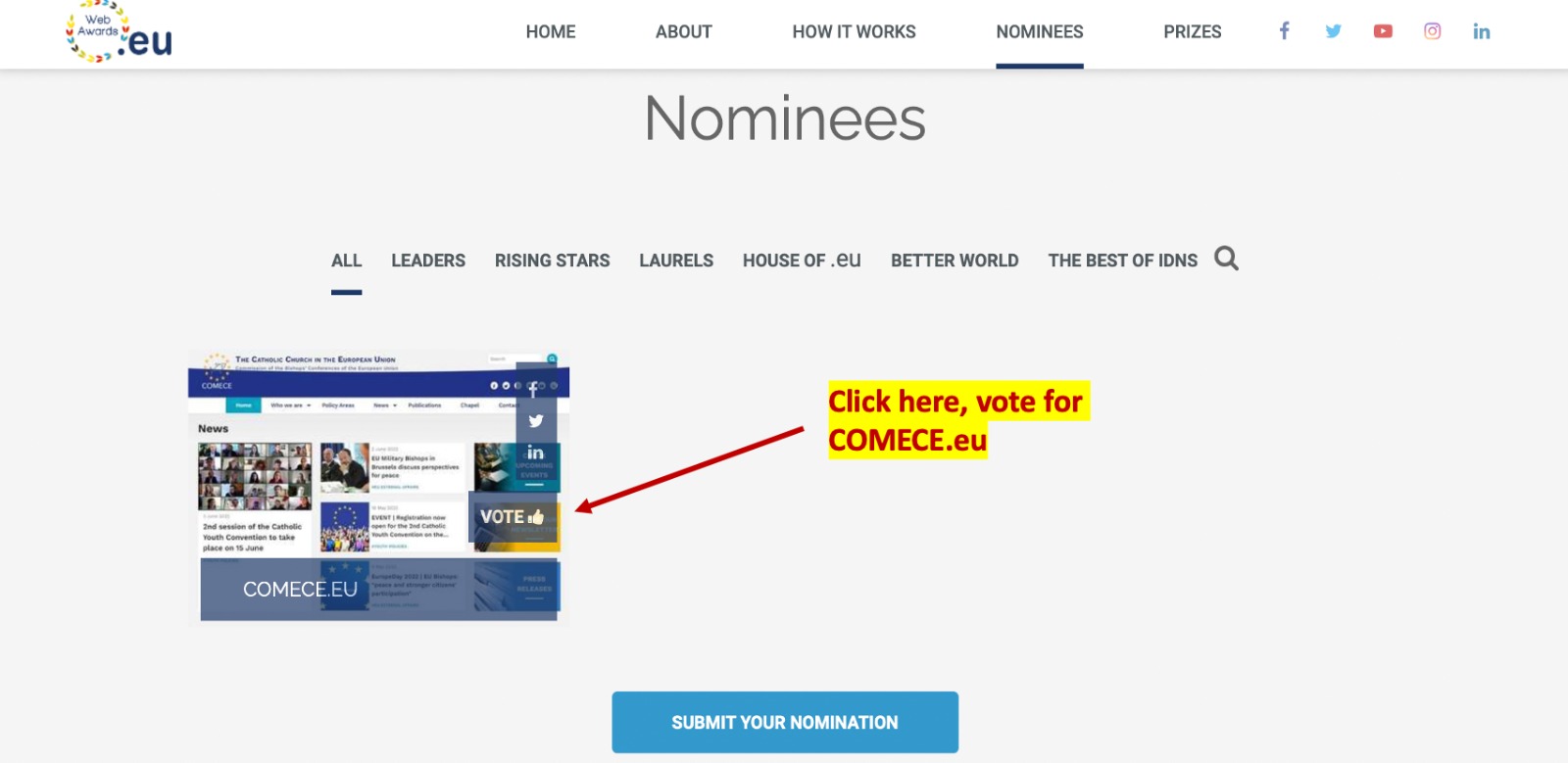 23/06 - The new website of COMECE is competing for the "2022 Eurid Web Award in the "Laureals" category, which includes websites that represent educational institutions, charitable organisations and pan-European projects. Websites that will receive the greatest number of votes will move to the final round. Eurid is the nonprofit organisation appointed by the European Commission as the domain name registry that operates the ".eu" top-level domains.
Vote for our website and share this link: VOTE NOW!
PHOTO

|

Archdiocese

of Utrecht hosts the COMECE team for a day-trip
14/07 - Invited by H.E. Mgr. Theodorus Hoogenboom (The Netherlands), the COMECE team spent a day in the Archdiocese of Utrecht to explore its religious, cultural and social realities. During this one-day trip, the team of COMECE was also received by H.Em. Cardinal Wim Eijk, Archbishop of Utrecht.
On behalf of the entire Secretariat of COMECE, General Secretary Fr. Manuel Barrios Prieto thanked Card. Eijk and Mgr. Hoogenboom for the invitation and the hospitality. "It was an extraordinary experience in a beautiful European city and archdiocese, striving to be faithful to its mission in difficult times".
Mgr. Hoogenboom is the Dutch Bishop Delegate to the Assembly of COMECE. He is also the President of the COMECE Legal Affairs Commission.
OPPORTUNITY

| Workshop on the state of democracy in the EU to take place in September 2022
11/07 - The group "Passion for Europe" proposes a residential workshop in the city of Namur (Belgium) on the future of democracy in the European Union. The event is organised under the umbrella of the Jesuit European Social Centre (JESC), one of COMECE's Brussels-based partners. The initiative will take place on 16-18 September 2022. Info & Registration